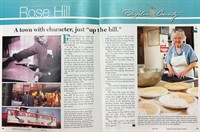 We are located at 103 SE Railroad Street, Rose Hill, N.C. 28458. With a population of 1686, the Town of Rose Hill, N.C. is located in the southwestern part of Duplin County. Rose Hill is served by Interstate 40, U.S. Highway 117 and CSX Transportation. Exit 380 on I-40 is only one mile from town.
History of Rose Hill
Rose Hill was first settled in the late 1840s and officially chartered in 1875. Rose Hill sprang up along the tracks of the old Wilmington Weldon Railroad and upon completion of the track through Duplin county in 1838, it was the longest railroad in the US at 161 miles. Rose Hill was a shipping point for the naval stores industry. Thousands of barrels of turpentine, pitch, rosin and tar were shipped by rail to the port of Wilmington during the middle and late 1800s.
The North Carolina Poultry Jubilee
This annual festival is a state-wide event and is held at the Town Square in Rose Hill, N.C., the centerpiece being the World's Largest Frying Pan. This annual festival is held the first weekend in November and consists of a vendors, musicians, dancers, games, rides and lots of food. For more information please contact the Rose Hill Chamber of Commerce, P.O. Box 985, Rose Hill, N.C. 28458 or